Frederick William – Duke of Brunswick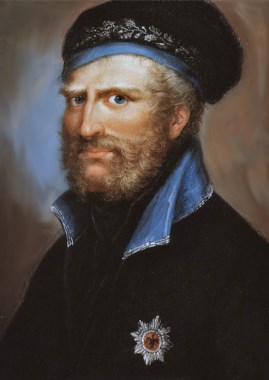 Across the Thames from Belgravia and Tate Britain stands Brunswick House, a wonderful reminder of eighteenth century Vauxhall and its pleasure gardens.
Belmont or Brunswick House was built by John Dawson in 1758 on around three acres of freehold land bought by his late uncle Richard Dawson in 1737 from Joseph Pratt. It was originally called Belmont House, probably because the southern boundary road was named Belmont Row (or Belmont Place). The estate included a three-storey mansion house, with offices, a coach-house and stable. In 1791 the house was divided into two; the larger south-western portion was leased to David Hunter and the other to William Anderson.
Despite living in the property for only a short time, Frederick William, Duke of Brunswick-Wolfenbüttel remains closely associated with the house.
Family life
Frederick William, Duke of Brunswick-Wolfenbüttel was born in Germany as Friedrich Wilhelm on 9 October 1771. He was the fourth son of German prince and Duke of Braunschweig-Lüneburg Karl Wilhelm Ferdinand and his wife Princess Augusta of Great Britain. He was cousin, and from 1795 the brother-in-law of George IV, who was Prince Regent of the United Kingdom from 1811.
Military career
Frederick joined the Prussian army in 1789 as a captain and fought in battles against Revolutionary France. In 1805, Frederick William inherited from his uncle the Duchy of Oels, a small principality in Silesia and in 1806 inherited, after his father's death, Brunswick-Wolfenbüttel which he ruled to 1807 when for a short while it became part of the short-lived Napoleonic Kingdom of Westphalia in 1807 and again between 1813 and 1815. Although he was the fourth son, his eldest brother had died childless two months earlier, and both the second and third brother had significant learning disabilities that had earlier caused them to be removed from the line of succession
In 1809 when war broke out again, Frederick William took this chance to create a corps of partisans against French domination in Germany. Using his own finance plus the support of the Austrian Empire, he took the Black Brunswickers, so named because they wore black uniforms, to the North Sea coast. It was at this time that he got his nickname The Black Duke.
Life in Britain
Frederick William briefly managed to retake control of the city of Braunschweig in August 1809, which gained him the status of a local folk hero. He then fled to Britain to join forces with his brother-in-law, later to be King George IV.
In 1811 Frederick William fled to England after taking part in the battle of Wagram against Napoleon. In the same year he came to live at Brunswick House, then known as Belmont
House, taking on a lease for half the house that had previously belonged to William Anderson. The larger south-west portion remaining in the possession of David Hunter.
Return to Germany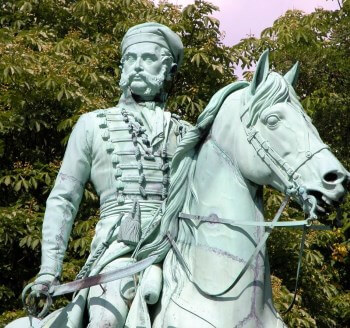 Frederick returned to Brunswick in December 1813, after Prussia had ended French domination in Braunschweig-Lüneburg. When Napoleon returned to the political scene in 1815 during the Hundred Days, Frederick William again raised troops. He was killed by a gunshot at the Battle of Quatre Bras on 16 June, the night after he had attended the Duchess of Richmond's ball in Brussels and left it happy to have a chance to show his fighting ability.Renaming of Belmont House. His part of Belmont House was purchased by the Gas Company and sold to the Railway Company in 1855. The two parts of the house were subsequently reunited under the name of Brunswick House and was used as an institute and club for railway workers.
Brunswick House today
The house is now the LASSCO architectural emporium and the Brunswick House Restaurant. Situated next to five lanes of London traffic, you can leave the roar of twenty-first century London behind when you walk through the door.
Whether you are looking for a Grecian urn, a chaise longue, a Georgian fireplace or a twentieth century walnut dining chair, you may be able to find it here. Alternatively, Brunswick House Restaurant has gained a great reputation as a place to eat, with the restaurant also able to cater for weddings, celebrations and business events in the house itself.
Drinks receptions are held within the panelled rooms where once the Duke of Brunswick would have had his study, or where he would have spent time with this wife and family. Whilst the salvaged curiosities, magnificent chimneypieces and sparkling chandeliers are not original to the house, it provides a wonderfully decadent and funky atmosphere.
The high-ceilinged Saloon and interconnecting Smoking Room make the perfect place to have a seated meal. If you prefer, dancing can take place in the Cellar Rooms where part of the original foundations, large fireplaces and ancient flagstones can be seen in the wine vaults.